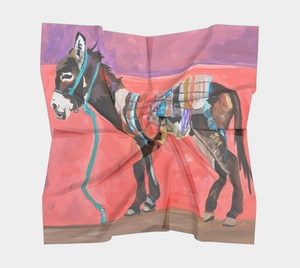 This original art scarf is soft, supple, and beautiful! Wear around your neck, in your hair, on a handbag.
Christina Jackson's original Muy Bien art on silk Habotai.
Measures 16" x 16" or 26" x 26" or 36" x 36"
Machine Wash gentle in cold water with 1/2 cup vinegar and 2 teaspoons salt for first wash. Fill the washing machine with water. Machine dry delicate or hang to dry. Can be ironed on silk setting. Machine wash or hand wash with a mild detergent for subsequent washes. Add a mild softener to restore lost softness during wash cycle. Do not bleach.